In current times, Russia is also one of the places international students are eager to study. The country has its advantages. It is home to some quality universities and a unique environment filled with ample opportunities. Abroad studies in Russia are much more affordable than the significant educational countries like the USA, UK, Canada & Australia. If you are planning your higher studies in Russia, there are things you must know.
Part-time Work Opportunities in Russia
Abroad education in Russia may be affordable, but there are many restrictions for international students regarding part-time work. There are not so many options you have with just your student visa. For example, the only limitations other countries put in such situations are working hours and wage-related details. However, the Russian government requires international students to have a particular permit to work in the country legally.
As of 2018, the fee for a work permit in Russia is 3,500 roubles. Even when you apply for a particular work permit, it's not much avail given you're an internal student there. It involves complicated bureaucratic procedures, and the permit only allows one to work in one professional field specified in the document. Also, you can work only in the university's region that you are affiliated with. If you try working without a permit, do not even think about it. If caught, you will be fined a significant amount that is not idle.
What Can You Do?
Having such restrictions does not mean you do not have enough options. On the contrary, there are always jobs and areas that do not come directly under a country's government jurisdiction. Such examples are university-related options, freelance, personal work. Therefore, there are still enough part-time job options for you as an international student in Russia.
University-affiliated work
Even with no permit, you are allowed to work in jobs availed by your university itself. These jobs do not follow direct guidelines from the government and fall under university rules and regulations. The most common examples for these kinds of part-time jobs are; assistant to the professor, working in campus cafeterias, fast-food joints, stationery shops. These all are located in your university and will be very efficient. You can also apply for lab assistants in your universities to stay connected with various research and developments.
Freelance working
Being in a country with many restrictions does not stop you from freelancing. In 2022, it's more than easy to work as a freelance worker as an international student. It also has the feature to maintain your work schedule according to your comfort. In addition, you can blog, help other students in need, do specific tasks based on your skill sets, and many more. Freelance is a vast field that allows anyone to earn according to their talents. Given that you are a student, it seems like the most viable option.
Language related works
Russia is a somewhat indifferent country. There is a significant language barrier in Russia when it comes to English. Firms and companies located in the country mostly ask for fluent Russian speaker candidates. As an international student pursuing higher studies in an English-taught university, you can work as a language tutor. Russia or any other country, there are always people eager to learn the English language. Online media has now availed so many options. Use it to your advantage.
Conclusion
Having a restriction on you does not mean you do not have options. On the contrary, students worldwide manage to find solutions in dire situations. Russia is no doubt an excellent country to study abroad. And if you have enough information, it's enough to work and earn.
Author Bio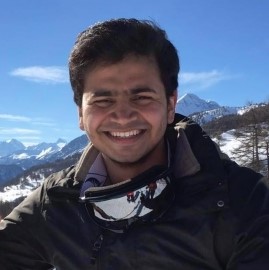 Author Bio: Abhyank Srinet is a passionate digital entrepreneur who holds a Masters in Management degree from ESCP Europe. He started his first company while he was still studying at ESCP, and managed to scale it up by 400% in just 2 years.
Being a B-School Alumni, he recognized the need for a one-stop solution for B-School to get in touch with schools and get their application queries resolved. This prompted him to create Mentr Me, a one-of-a-kind portal with cutting edge profile evaluation and school selection algorithms, along with several avenues to stay informed about the latest B-School Updates.