Why study in France?
Despite its less-than-welcoming reputation, France may be an excellent environment for international students. The country is exceptionally helpful to its student population, providing several discounts, government assistance, and high-quality education. In terms of social life, knowing French is a big plus, but even if you're studying, there will be plenty of others in your shoes because the country is home to thousands of international students. Once you've settled in, studying in France can be a real treat, with excellent food and wine, a healthy work-life balance, and Europe's best business schools.
In general, living in France is not inexpensive. Outside of Paris, however, the cost of living is significantly lower than in the pricy capital city. Furthermore, students from the EU are eligible for various government assistance programmes, including rent help and even some spending money. As a result, students in Paris should budget between €1000 and €1800 per month as a general estimate. Monthly budgets in other parts of France range from €600 to €1600 per month.
However, the most important aspect of studying in France is to know how to select a university for ms in France. We have provided a list of top universities for you, which you can look at to make a wiser decision.
Top B-schools in France
1. INSEAD Business School
INSEAD is an excellent option to explore as we begin our list of the finest business schools in France for international students. The school's main campus is in Fontainebleau (near Paris), but it also maintains campuses in Asia, Europe, the Middle East, and North America. INSEAD is proud of its founding values of diversity and entrepreneurship, so overseas students may be confident that their presence is valued as a valuable member of the school community. In addition, INSEAD is a beautiful place to continue your studies in business or learn how to refocus your previous degree for the business world, offering masters, doctorates, and open five-week programmes in various subjects.
2. HEC Paris
HEC Paris is another fantastic alternative for overseas business students. The business school's vision has recently shifted, emphasising the corporate world's unparalleled velocity of change. HEC Paris is a world leader in business education, providing students with the information and experience they need to stay up with the fast-paced dynamics of the industry. Their 4,500 students represent 111 different nationalities, resulting in extremely diverse classes. Furthermore, their 125 partner colleges make the international exchange more accessible than ever. HEC Paris is without a doubt one of France's premier business schools for overseas students.
3. EDHEC Business School
EDHEC is the next business school on our list of the finest business schools in France for international students. EDHEC has been training entrepreneurs since its founding in Lille in 1906, making it one of the oldest business schools on this list. It has since grown to include Nice, Paris, London, and Singapore campuses. EDHEC is one of the few colleges on this list that offers a bachelor's degree, so there's something for everyone. In the case of overseas students, EDHEC even dedicates an entire team of staff members to ensure a successful arrival in France, assisting with everything from banking and insurance to organising social events.
4. Burgundy School of Business
The Burgundy School of Business is next on our list, and it is without a doubt one of the top B-schools in France for international students. Burgundy's degree options are vast and diverse, including bachelor's, master's, specialised masters, MBAs, and short-term programmes. A couple of their programmes are particularly well-suited to overseas students who plan to work in France after graduation. For example, graduates of the MBA in Wine & Spirits Business or the MSc in Management of Cultural Enterprises and Creative Industries are well-prepared for work in various specialised French industries. Burgundy is another business school with many non-French students, having over 75 countries represented among their student body.
Conclusion
Finally, France is one of the best destinations for pursuing higher studies. It is popular among international students for several reasons. However, if you choose to study in France, you must first look for the schools and select the one that aligns with your interests.
——————————————————————————————————————
Author Bio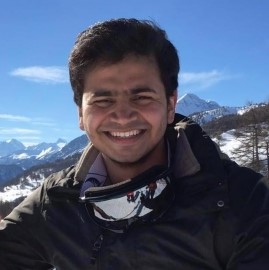 Abhyank Srinet is a passionate digital entrepreneur who holds a Masters in Management degree from ESCP Europe. He started his first company while he was still studying at ESCP, and managed to scale it up by 400% in just 2 years.
Being a B-School Alumni, he recognized the need for a one-stop solution for B-School to get in touch with schools and get their application queries resolved. This prompted him to create mentr-me, a one-of-a-kind portal with cutting edge profile evaluation and school selection algorithms, along with several avenues to stay informed about the latest B-School Updates.