Have you ever wondered about the special qualities of Waldorf toys? Not to be confused with the hotel in New York or its namesake salad, Waldorf toys offer something unique. These simple and natural play materials are created for an educational purpose – connecting children to the reality of life here on Earth. Using natural materials, Waldorf toys come with soft features that are aesthetically pleasing and gentle on the senses. From shape and colour, to texture and sound, each detail is carefully crafted to provide a one-of-a-kind experience.
Did you know?
✔️ During the First World War, Waldorf Education was born when Rudolf Steiner was asked to create a school for the children of employees at the Waldorf-Astoria Cigarette Factory in 1919 Germany.
✔️ Consequently, this form of teaching is also often referred to as Steiner education because of his influence on it.
✔️ Fast forward to today and you'll find over 60 countries with 1,300 schools and 2,000 early childhood education centre's taking part in this popular method.
Rather than using electronics or synthetic materials such as plastic, Waldorf toys are crafted from natural resources like wood, wool, cotton and silk. This is done in part to establish a connection with the life that surrounds us in nature and to create an atmosphere of warmth and nourishment. Additionally, these types of toys are far better for the environment since they utilize eco-friendly, sustainable, and often organic products. Consequently, Waldorf toys capture the beauty of life found in nature that standard plastic products lack.
Waldorf toys – what are they
Waldorf toys are designed to help develop the twelve senses as defined by Rudolf Steiner: The categories being cognitive, social and physical.
When evaluating Waldorf toys, such as wooden ones, one should consider the following criteria
the authenticity of the material, its practicality for everyday use, and its social appeal are all factors in evaluating aesthetic properties.
Rudolf Steiner founded anthroposophy, which provides the basis for this.
Waldorf toys are sorted according to age so that you can find what's right for your child.
We show you how varied natural toys for children can be in our online shop at Honeybee toys. IIn addition to toys made of wood by well-known companies such as Grimm's and Ostheimer, you will also find an assortment of dolls pram's and cuddly toys for babies and small kids.
Honeybee toys is dedicated to providing high-quality learning materials and Waldorf is one of our leading brands.
You'll need: a sketchbook, crayons and colored pencils
Handicrafts play a major role in Waldorf education. In our Honeybee online shop you will find an extensive range of handicrafts for creative design.
Health-conscious parents can purchase Stockmar crayons with matching roller cases and Lyra Waldorf crayons and pencils for their children.
For those who want high-quality toys made from nature's materials, we also offer many other utensils that meet Waldorf toy standards.
Eurythmy, a discipline developed by Rudolf Steiner over the course of his lifetime, seeks to affect every aspect of an individual.
Eurythmic movement should be used to develop the individual's own unique style of movement in space.
In addition, moving one's own body is essential in order to experience the strength of thinking, feeling and wanting.
Eurythmy is a central subject in the curriculum of Waldorf schools; it is also used as a form of therapy, and increasingly on stage.
Eurythmy students often perform their exercises to music.
In our online store, we offer a wide range of eurythmy supplies.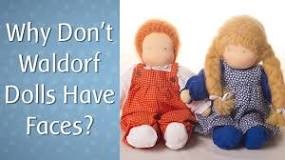 Why is it called a Waldorf doll?
The first dolls made to look in this style were created in Germany during the 1920s, and these "Waldorf dolls" became very popular among practitioners of a pedagogy developed by Rudolf Steiner.
These dolls are made of natural materials and have few facial features, so children can use their imaginations when playing with them.
Unlike most traditional dolls, which have extensive facial features and hairstyles, Waldorf dolls are intentionally simple.
A Waldorf doll is an excellent first toy for children.
The dolls can be used to explore a child's role-playing, nurturing and imaginative skills.
.